Vietnam offers immense potential for fruit juice manufacturers due to its favorable growing conditions. This blog post aims to provide comprehensive information on finding the best fruit juice manufacturers in the country.
Reasons to Choose Fruit Juice Manufacturers in Vietnam
1. Supply Potential of Vietnamese Fruit Juice Manufacturers
Vietnam has experienced a shift towards increased forestry, with approximately 4.82% of land dedicated to this sector in 2020 (according to the General Statistics Office). By the end of 2021, Vietnam had approximately 1.14 million hectares of fruit tree plantations, yielding a total fruit production of around 12.6 million tons per year. Notably, more than 30 out of the 40+ fruit varieties in Vietnam hold commercial value. Over 10 types, including dragon fruit, banana, mango, watermelon, coconut, and lychee, are key export items. These ideal conditions enable Vietnamese fruit juice manufacturers to access cost-effective, high-quality, and abundant raw materials for their production processes.
According to Statista, a leading provider of market and consumer data, the revenue in Vietnam's Fresh Fruits segment reached US$6.49 billion in 2022. The market is projected to grow at an annual rate of 7.27% (CAGR 2022-2027), with the consumption volume estimated to reach 3,469.5 million kilograms by 2027. Additionally, the global demand for fruit is expected to grow by 8.2% annually from 2019 to 2025, reaching $585.25 billion by 2025. These positive forecasts position Vietnamese fruit juice manufacturers to effectively cater to the increasing market volume and serve customers worldwide.
These favorable conditions establish a solid foundation for Vietnamese fruit juice manufacturers to become leading suppliers in the global fruit juice market.
2. International Competitiveness of Vietnamese Fruit Juice Manufacturers
Vietnamese fruit juice manufacturers have made remarkable strides in expanding their reach across the world. Their products have conquered markets not only domestically but also in fastidious regions like the US, EU, and the Middle East. These manufacturers have invested in modern equipment, large-capacity factories, and advanced production lines, ensuring efficient operations, management, and production optimization.
Furthermore, Vietnamese fruit juice manufacturers have obtained certifications such as HACCP, FDA, BRC, ISO22000, Halal Jakim, and FSSC. These certifications validate their adherence to manufacturing standards related to food safety, hygiene, and production quality, ensuring their products meet global export requirements. Positive feedback from customers worldwide further builds trust and credibility, serving as the greatest reward for their efforts.
3. Competitive Labor Cost
Labor cost is a critical consideration for business owners, impacting financial performance and overall success. To maintain product quality while keeping labor costs low, outsourcing to developing countries like Vietnam offers an ideal solution. These countries benefit from a golden population period, integration, and globalization, resulting in an abundant labor force and relatively low labor costs. Whether for large-scale production or small-scale pilot projects, outsourcing to Vietnam optimizes economic efficiency and helps reduce operational costs.
4. Development Advantages of Fruit Juice Manufacturers in Vietnam
In addition to the aforementioned competitive advantages, Vietnam possesses several other favorable conditions for becoming a leading fruit juice manufacturer:
Nature factor: Vietnam's tropical monsoon climate, characterized by abundant sunshine, high humidity, and an average annual temperature of 22-27 degrees Celsius, creates an optimal environment for fruit tree cultivation. This natural factor contributes to high-quality inputs and outputs, particularly in terms of organic properties. The abundance of fruits also adds to the diversity of juice drink portfolios among Vietnamese manufacturers.
Economy factor: Vietnamese fruits meet stringent global standards such as Global Gap and ISO 22000. The signing of the EVFTA (European Union-Vietnam Free Trade Agreement) has further increased the value, quality, and competitiveness of Vietnamese agricultural products, including fruits, in the global market. This elevated status enhances the reputation of Vietnamese fruit juice manufacturers, who source their products from quality suppliers.
Culture factor: Agriculture, including farming and livestock rearing, has been deeply ingrained in Vietnamese culture for thousands of years. Farming is not merely an economic pursuit but also a means to preserve cultural heritage. The government strongly supports modern, clean, and sustainable fruit and livestock farming practices, providing various incentives. This commitment fosters comprehensive development in the fruit juice manufacturing process in Vietnam.
In conclusion, Vietnam offers a promising landscape for fruit juice manufacturers due to its favorable growing conditions, international competitiveness, competitive labor cost, and various development advantages. Embracing these opportunities, Vietnamese fruit juice manufacturers are poised for excellence in the global market.
Highly recommend: Learn about the fruit juice processing with Panie Juice Beverages Manufacturing
Top top 5 fruit juice brands – fresh juice manufacturers in Vietnam
Here is a fruit juice brands list manufacturers in Vietnam for you to partner with.
Source: Panie Juice Beverages Manufacturing Viet Nam
Viet International currently owns 18 types of exported fruit juices: Energy Drink, Aloe Vera, Dr Fruit, Cocktail Drink… with many flavors like fruit juice, banana juice, mango juice, passion fruit juice, coconut juice, tamarind juice, strawberry juice, and many other delightful fruit flavors. Our production process, accompanied by automated technology, ensures that our products proudly carry the pure DNA of fruits, preserving the authentic Vietnamese taste in every drop.
Panie Juice Beverage OEM & ODM services are honored by brand builders and beverage distributors in over 65 countries.
Viet International Co., Ltd. has continuously received certifications and recognition, including ISO 22000, HALAL certification, HACCP certification and FDA certification. These certifications confirm that our products meet the requirements for ingredients and comply with the regulations of the Islamic law. Additionally, the FDA certification, issued by the Codex Alimentarius Commission, recognizes our establishment of a food safety management system, ensuring the mission of delivering high-quality products.
Our company's mission is to bring our products to places where customers desire to enjoy premium and perfect beverages. In our future strategy, Viet International – supplier manufacturers prioritizes three criteria: cooperation with farmers, establishing a connection between the company and customers, and adjusting products based on the needs and health of domestic consumers. We believe in tailoring our products to meet consumer demands, rather than adjusting consumer needs to fit our products.
The Viet International brand serves as a bridge for customers to recognize and appreciate all of our company's products. Over the past 16 years, under the strategic leadership of our management, we have strived to grow stronger and aim to establish an equal position alongside industry giants in the beverage sector in Vietnam. Customer satisfaction, sales growth, and product innovation serve as evidence of the collective efforts of our company, inspiring us to confidently pursue breakthroughs in our development.
Source: Tan Do Beverages
Tan Do Beverage is a leading global beverage manufacturer with three distinguished brands: Tan Do, Tropi, and Denavis. With over 25 years of experience in private label beverage production, Tan Do offers a comprehensive ODM/OEM service, catering to partners across six continents and more than 50 countries.
Tan Do possesses several key advantages that position it as the ideal fruit juice manufacturer. The company operates a state-of-the-art production factory with large-capacity facilities and has access to abundant sources of raw materials. Furthermore, Tan Do has obtained prestigious international certifications including FDA, FSSC, ISO, HACCP, and Halal Jakim, ensuring adherence to the highest quality standards.
The product portfolio is exceptionally diverse, ranging from coffee drinks, milk drinks, energy drinks, aloe vera drinks, to a wide array of fruit-based beverages. Among them, fruit juice drinks stand out as a flagship category, offering an extensive selection of flavors such as apple, banana, grape, mango, pineapple, and orange. These flavors have garnered immense popularity among international customers worldwide.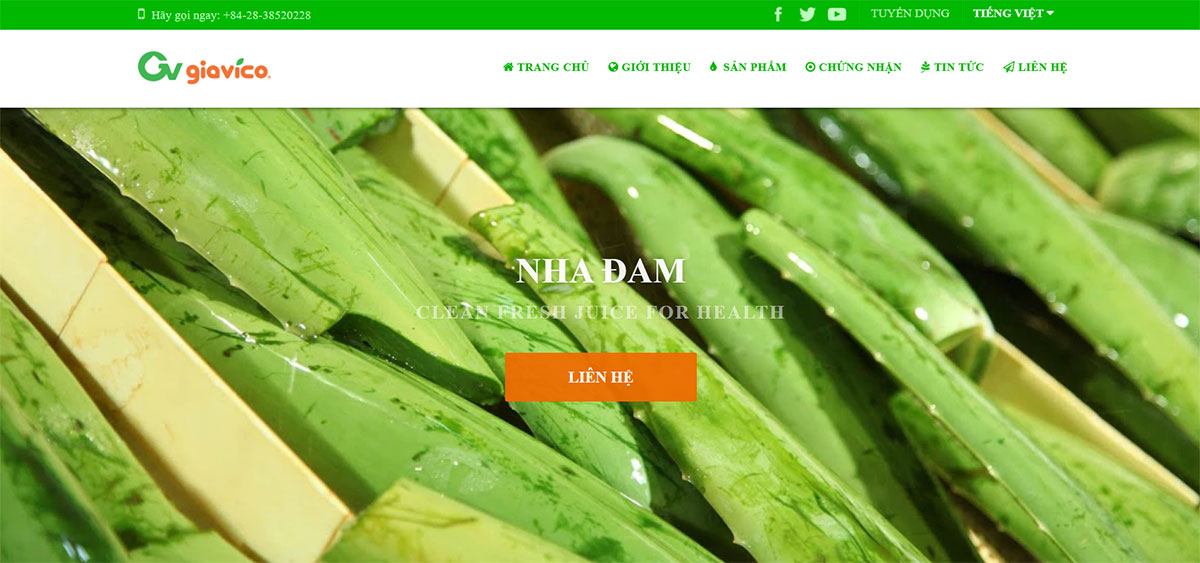 Source: Giavico – Fruit Juice Manufacture
With a legacy spanning back to 1992, Giavico International Food Co., Ltd is a seasoned beverage company renowned for its extensive industry expertise. In addition to offering exceptional OEM/ODM services, Giavico provides valuable marketing insights, production parameters, and consumer behavior data, empowering customers to make optimal decisions for their products.
Giavico boasts a diverse range of unique offerings, including fresh juices, vegetable/fruit juice purees (such as dragon fruit, soursop, watermelon, acerola), concentrates, sacs & dice, high-fiber drinks, canned products, quick, frozen products, and more.
The company provides various packaging options to cater to different needs, such as plastic pails (1823kg/pail), PE plastic bags (110kg/carton), 50-gallon drums (180-250kg/drum), and OEM co-packing PET bottles (235-2000ml).
Source: Nafoods Group JSC – Fruit Juice Manufacture
Founded in 1995 in Nghe An province, Vietnam, Nafoods embarked on a factory project in 2000 with a primary focus on producing and exporting juice products. Equipped with state-of-the-art production lines sourced from Europe, the company operates with exceptional capacity, positioning itself as a frontrunner in sustainable and environmentally friendly agricultural value chains.
Nafoods boasts a diverse product portfolio, including Fresh Fruits, Dried Fruits and Nuts, IQF (Individual Quick Freezing) Fruits and Vegetables, Juice Concentrates (such as Calamansi, Lime, Lychee, Dragon Fruit, Pineapple, Passion Fruit, Watermelon), and NFC/Puree Juices (including Durian, Banana, Jackfruit, Papaya, and more).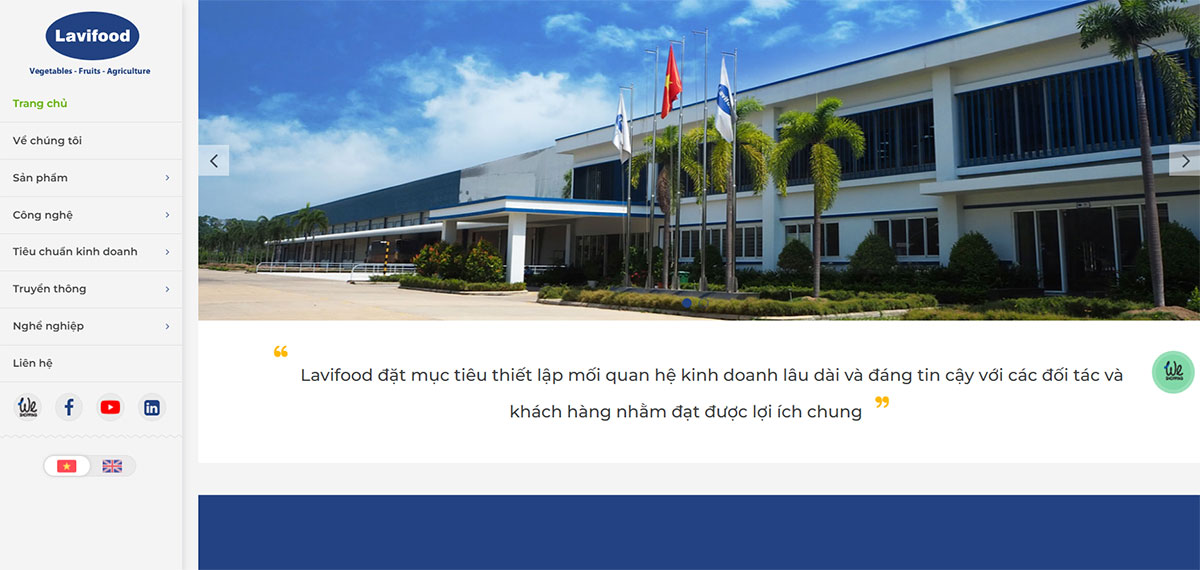 Source: Lavifood – Fruit Juice Manufacture
Lavifood specializes in the meticulous processing, production, and distribution of premium Vietnamese fruits, vegetables, and agricultural products for both domestic and international markets. The company's products are accredited by esteemed global quality assessment organizations, including ISO 22000, HACCP, BRC, Halal, and Kosher.
Lavifood operates a versatile production line system capable of handling various processes such as preliminary fruit treatment (VHT), freezing (IQF), blanching, drying, concentration, pureeing, and vegetable juice processing (HPP). This advanced infrastructure enables Lavifood to deliver an extensive range of fresh, nutritious, safe, and convenient products that cater to the diverse needs of both local and global consumers. Notable offerings include concentrated juices such as passion fruit, mango, dragon fruit, pineapple, and watermelon.
Conclusion
This is the end of the article Top 5 Fruit Juice Manufacturers in Vietnam. Hopefully, the article will bring useful information to readers who are looking for a fruit juice manufacturer in Vietnam. If you have any questions or want to learn more about ODM/OEM private label beverage service, do not hesitate to contact Panie Juice Beverages or find us on Facebook, LinkedIn, Twitter, and Instagram,… We are here for you.