About Panie Juice Mango 500ml
Introducing Panie Juice Mango 500ml, a premium beverage meticulously crafted to deliver the essence of nature's goodness. Made from the finest mangoes, this 500ml juice is a delightful combination of exquisite flavor and health benefits.
Panie Juice Mango is renowned for its tropical and refreshing qualities, enriched with vitamins and antioxidants, making it an ideal choice for health-conscious individuals. With each sip of Panie Juice Mango, you embark on a journey to the lush landscapes of Vietnam, where this fruit is cultivated with care and expertise.
Our commitment to quality is evident in every bottle of Panie Juice. We carefully select the freshest mangoes, ensuring no additives or artificial flavors are added. The result is a pure and authentic beverage that captures the true essence of mango.
As a leading exporter of beverages from Vietnam, we take pride in delivering the finest products to our customers worldwide. Panie Juice has gained recognition for its exceptional quality and taste, and Panie Juice Mango is no exception. Whether you're a distributor, retailer, or restaurant owner, Panie Juice Mango is a must-have addition to your beverage selection.
Experience the natural goodness of Panie Juice Mango. With every sip, indulge in tropical flavors and enjoy the health benefits it brings. Discover why Panie Juice is trusted and sought after by beverage enthusiasts around the globe.
Choose Panie Juice Mango 500ml for a refreshing and extraordinary beverage experience. Experience the taste of Vietnam, sip by sip.
Our Certificate and Service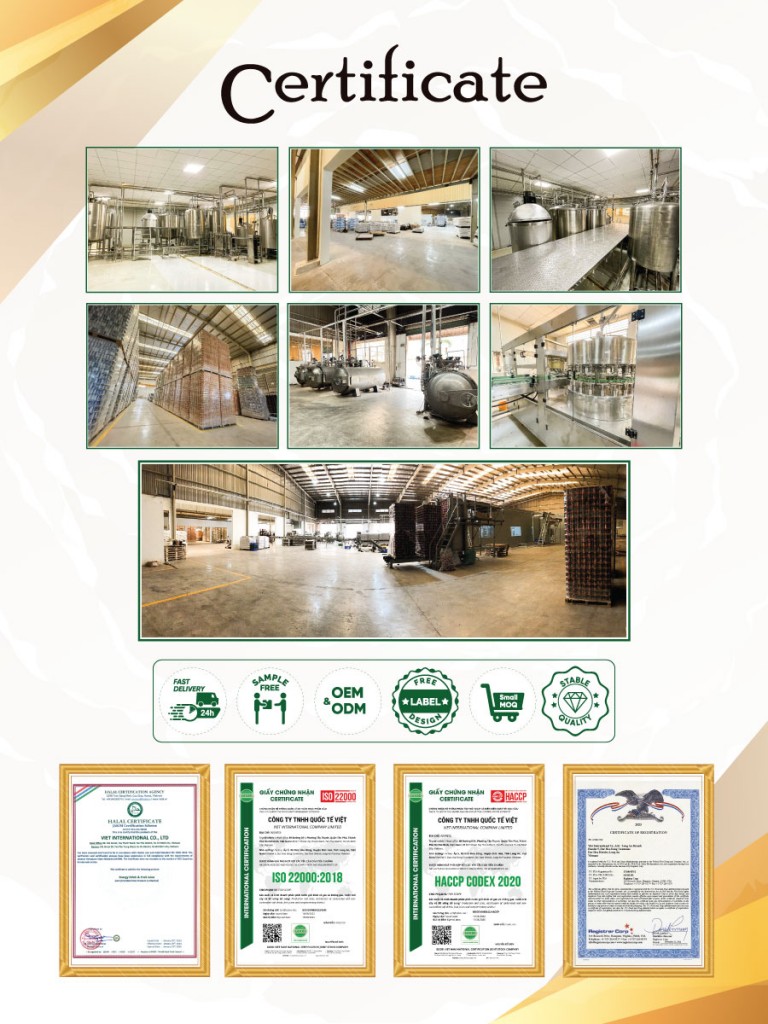 If you want to be an exclusive agent or have a large number of orders, we will provide you with a very competitive price. We provide OEM product and private label service.

All Beverage Natural from VietNam. We produce 100% fresh fruit juice and are therefore healthier and more natural.
OVERVIEW ABOUT VIET INTERNATIONAL CO., LTD
Viet International Co., Ltd is a beverage manufacturing company established since 2006, with private labels such as Panie, BU, Explosion, Ready…, leading co-packer, headquarters, and factories in Vietnam.
With a dynamic and creative team, we have brought consumers valuable and nutritious products such as BU & EXPLOSION energy drinks, PANIE fruit juices, PANIE chia seed juices, etc.
Over the years, our company has exported products to markets in the US, Europe, Asia, Africa, the Middle East, and neighboring countries such as Cambodia, Laos, etc. In addition, our BU & EXPLOSION products have been present in supermarkets nationwide.
BUSINESS PHILOSOPHY
Respect the customer – Build trust with quality products and services, accompany customers on the road to success. We always prioritize the interests of customers and see it as a fozundation for building sustainable and long-lasting relationships with them.
During our production process, all steps are strictly supervised and controlled, from raw material input to final products, and toxic chemicals are absolutely free of use to make sure our products meet international standards. RITA's products have achieved important certificates for both the domestic and international markets, including: ISO 22000, HALAL, HACCP, FDA… and so on Our products are presented in over 130 nations worldwide.