Introducing BU Premium Energy Drink, the ultimate source of revitalization packed in a 500ml can. Experience the power and energy of BU Energy with our BU Premium Energy Drink.
BU Premium Energy Drink is meticulously crafted to provide you with an unparalleled energy boost. Specially formulated with a unique blend of ingredients, our energy drink is designed to enhance your focus, endurance, and overall performance.
We take pride in our commitment to quality, ensuring that every can of BU Premium Energy Drink delivers a consistent and invigorating experience. Our premium ingredients, combined with advanced production techniques, result in a refreshing and potent energy drink that you can rely on.
As a leading brand in the energy drink market, BU Energy has gained recognition for its exceptional quality and effectiveness. BU Premium Energy Drink is the perfect companion for busy individuals, athletes, students, and anyone in need of a boost to conquer their day.
Experience the unstoppable energy of BU Premium Energy Drink. With every sip, feel the surge of vitality that propels you forward. Unleash your full potential and overcome any challenge with BU Energy by your side.
Choose BU Premium Energy Drink for a premium energy drink experience. Fuel your body and mind with the power of BU Energy. Get ready to elevate your energy levels to new heights!
Our Certificate and Service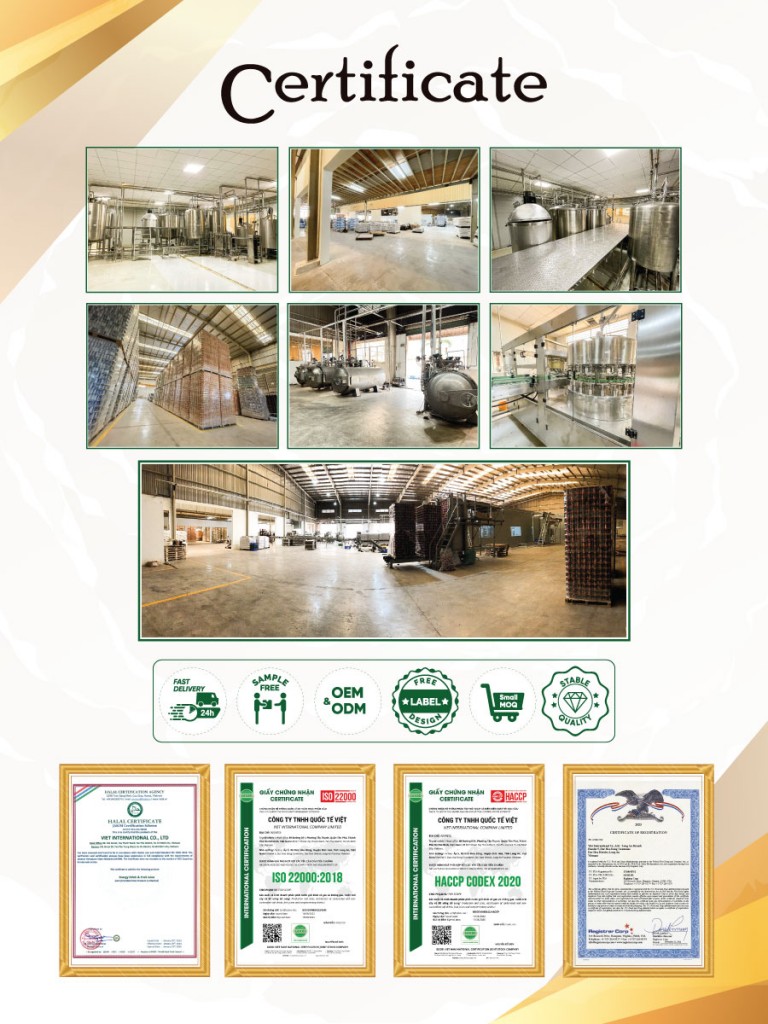 If you want to be an exclusive agent or have a large number of orders, we will provide you with a very competitive price. We provide OEM product and private label service.

All Beverage Natural from VietNam. We produce 100% fresh fruit juice and are therefore healthier and more natural.
OVERVIEW ABOUT VIET INTERNATIONAL CO., LTD
Viet International Co., Ltd is a beverage manufacturing company established since 2006, with private labels such as Panie, BU, Explosion, Ready…, leading co-packer, headquarters, and factories in Vietnam.
With a dynamic and creative team, we have brought consumers valuable and nutritious products such as BU & EXPLOSION energy drinks, PANIE fruit juices, PANIE chia seed juices, etc.
Over the years, our company has exported products to markets in the US, Europe, Asia, Africa, the Middle East, and neighboring countries such as Cambodia, Laos, etc. In addition, our BU & EXPLOSION products have been present in supermarkets nationwide.
BUSINESS PHILOSOPHY
Respect the customer – Build trust with quality products and services, accompany customers on the road to success. We always prioritize the interests of customers and see it as a fozundation for building sustainable and long-lasting relationships with them.
During our production process, all steps are strictly supervised and controlled, from raw material input to final products, and toxic chemicals are absolutely free of use to make sure our products meet international standards. Viet International's products have achieved important certificates for both the domestic and international markets, including: ISO 22000, HALAL, HACCP, FDA… and so on Our products are presented in over 130 nations worldwide.